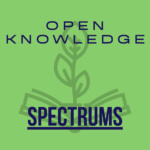 In this episode, Apurva Ashok and Zoe Wake Hyde discuss open publishing practices, tools, and processes. They share the work that the Rebus Community is doing to support more collaborative, open, and transparent approaches to OER creation. We discuss some of the ethical and equity considerations that relate to open publishing, the work that goes into successful collaborations, and the power of publishing.
Read the transcript for this episode and contribute to the conversation at https://knowledgespectrums.opened.ca/.
Here are some links and resources:
Here are some of the specific projects they mentioned:
You can learn more about this podcast at knowledgespectrums.opened.ca. On the website, you can find all episodes and transcripts, along with many other resources and information related to this project. You can connect with me on Twitter @josiea_g and you can tweet about the podcast using the hashtag #OKSPodcast. 
The theme song is "Cool Upbeat Hip Hop Piano" by ItsMochaJones on freesound.org and shared under a Creative Commons Attribution License. 
This episode is shared under a Creative Commons Attribution-ShareAlike License. So you are welcome to share and remix the episode, as long as you give credit, provide a link back to the original source, and share any remixed work under the same license. 
I record this podcast on the traditional and unceded territories of the lək̓ʷəŋən Peoples, including the Esquimalt and Songhees Nations, and the lands of the W̱SÁNEĆ Peoples. I am very grateful for the opportunity to live, work, and learn on these lands.