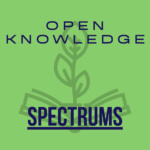 I talk with Arley Cruthers and Samantha Walsh about their experiences as physically disabled instructors and where they see the potential for disability to be a positive disrupter in open education spaces and for students. We discuss the value of difference and making space for diverse bodies and minds, and the assumptions people make about who will be in a space or use a resource.
Read the transcript for this episode and contribute to the conversation at https://knowledgespectrums.opened.ca/.
Here are additional resources to explore:
You can learn more about this podcast at knowledgespectrums.opened.ca. On the website, you can find all episodes and transcripts, along with many other resources and information related to this project. 
You can connect with me on Twitter @josiea_g and you can tweet about the podcast using the hashtag #OKSPodcast 
I record this podcast on the traditional and unceded territories of the lək̓ʷəŋən Peoples, known today as the Songhees and Esquimalt Nations, and the territories of the W̱SÁNEĆ Peoples. 
The theme song is "Cool Upbeat Hip Hop Piano" by ItsMochaJones on freesound.org and shared under a Creative Commons Attribution License. 
This episode is shared under a Creative Commons Attribution-ShareAlike License. So you are welcome to share and remix this episode, as long as you give credit, provide a link back to the original source, and share any remixed work under the same license.