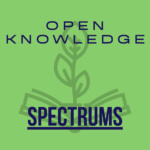 In this final episode, I talk with Marco Seiferle-Valencia about his work as an OER librarian and how he has supported faculty in creating low or no-cost materials that have specific social justice goals. He shares how his own positionality impacts the work he does in open and offers a critical perspective on citational practices in open education scholarship.
Read the transcript for this episode and contribute to the conversation at https://knowledgespectrums.opened.ca/.
Here is a list of some of the resources mentioned during the episode:
You can learn more about this podcast at knowledgespectrums.opened.ca. On the website, you can find all episodes and transcripts, along with many other resources and information related to this project. 
You can connect with me on Twitter @josiea_g and you can tweet about the podcast using the hashtag #OKSPodcast 
I record this podcast on the traditional and unceded territories of the lək̓ʷəŋən Peoples, known today as the Songhees and Esquimalt Nations, and the territories of the W̱SÁNEĆ Peoples. 
The theme song is "Cool Upbeat Hip Hop Piano" by ItsMochaJones on freesound.org and shared under a Creative Commons Attribution License. 
This episode is shared under a Creative Commons Attribution-ShareAlike License. So you are welcome to share and remix this episode, as long as you give credit, provide a link back to the original source, and share any remixed work under the same license.